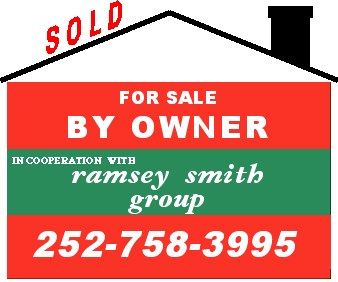 SERVING GREENVILLE & EASTERN NORTH CAROLINA FOR 30 YEARS

Increase your potential for a greater
return of equity while retaining your
rights as a "for sale by owner".


Perform market analysis


Show your property


Provide lawn signs


Show your property


Virtual tours


Internet advertising


Pre-qualify buyers


Prepare all paperwork


Coordinate loan process


Handle closing requirements


Manage inspections


No money up front


ramsey smith group
REAL ESTATE BROKERAGE
"Professionalism with Integrity"
252-758-3995
1801 South Charles Blvd.
Greenville, NC 27858
EMAIL US
TIPS ON PRESENTING YOUR HOME
Cleanliness is essential.

A pleasant smell, or absolutely no smell at all, must greet the prospective buyer.

Well-lighted rooms are a big plus to the buyer.

Bathrooms must be immaculate with scrubbed, shiny fixtures.

The kitchen likewise must be immaculate and in excellent order.

Strive to make your home appear as spacious and uncluttered as possible.

Remember to keep pets safely out of the way.

Closets should be as neatly arranged as possible.

The temperature should be comfortable whenever possible, and the atmosphere calm.

Unless their presence is required, family members need to be out of the house during a showing.